Looking to getting your resume done as quickly as possible?
No big deal, really.
You'll just need to showcase your portfolio and make it clear your hard and soft skills qualify you for the job. Plus follow a few pretty basic rules to keep your resume neat and tidy.
If you want to learn the do's and don'ts of recruiting and hope to up your chances of grabbing someone's attention, here are 10 superb art resume samples to check out.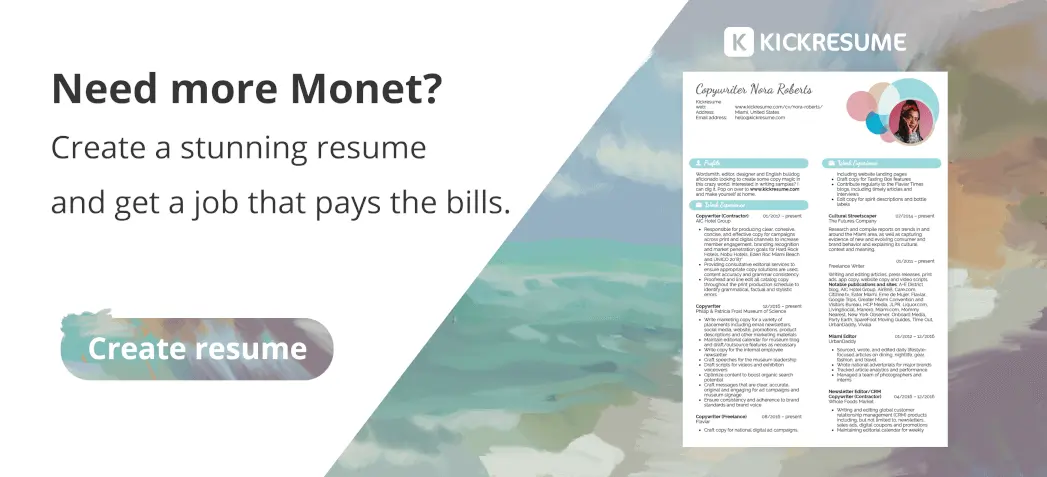 1. Film Director Resume Sample
You can't do better than pitching yourself in the very first section of your resume.
Your profile summary is your digital handshake. Use it to briefly say who you are, what you do and what makes you special. 
Outline your career trajectory and convince the recruiter you know where you're heading in the maximum of five sentences. 
---
Creative and performance-driven Film Director with an excellent eye for detail, an unparalleled track record of employer satisfaction, deep passion for film, and knowledge of all stages of the filmmaking process. Having a will to put in extra hours of work when needed and ability to perform well in team environments, Dennis is currently looking for a Film Director position with a well-known entertainment company.
Spicing it up with powerful adjectives like performance-driven, deep, excellent, unparalleled will them want to read the rest of your resume and learn more about your accomplishments and the skills you can offer.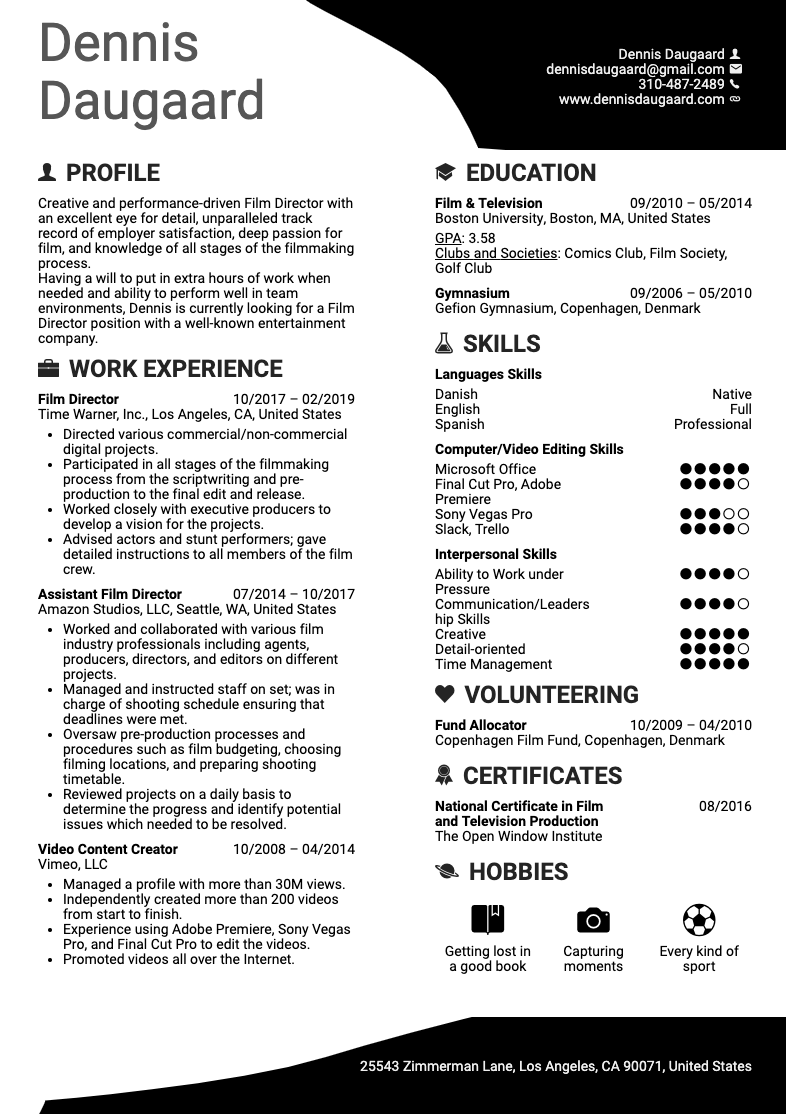 2. Actor Resume Sample
Artist's work experience is different. Starring a movie, writing a novel, composing a song or performing on stage doesn't need much describing. 
Talking about a work of art without actually seeing it is absolutely pointless. That's why you should say goodbye to wordy descriptions and focus solely on your portfolio.
There are several options available and it's only up to you which one will suit you the best. Polish up your social media profiles, create your own website or start a personal blog.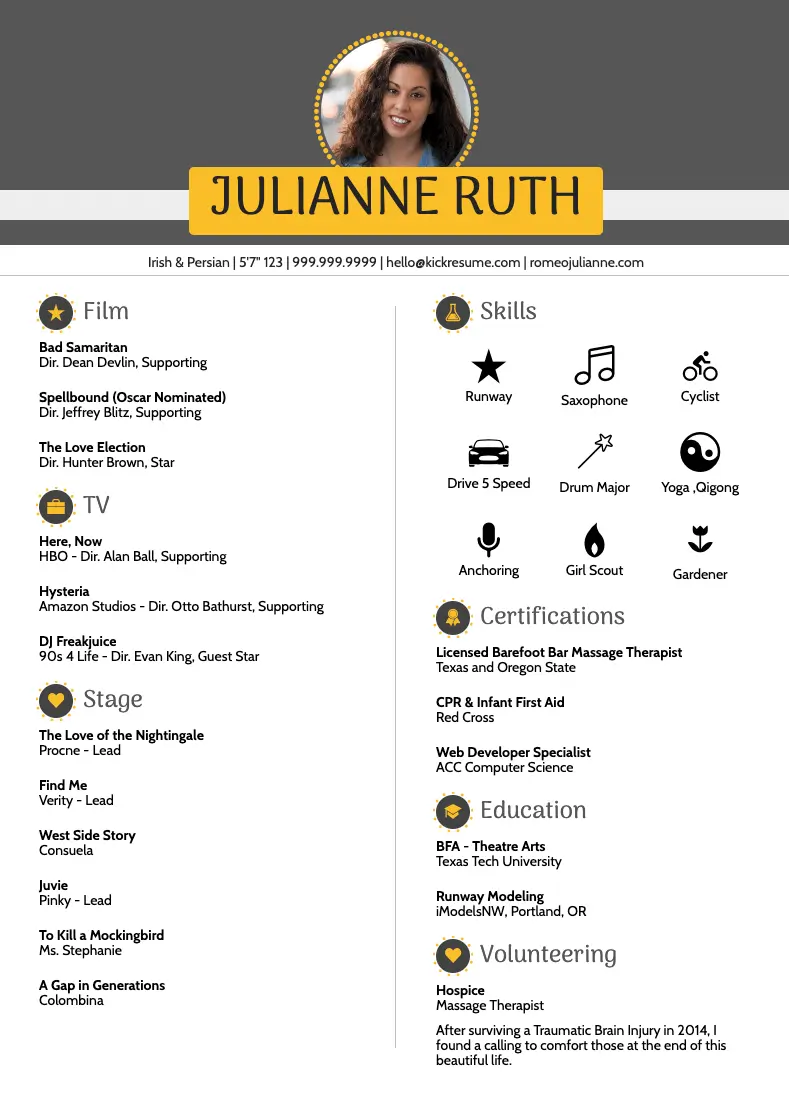 3. Graphic Artist Resume Sample
Created, established, collaborated, won. 
Sounds a bit like veni, vidi, vici, right?
If you want to be like Julius Caesar, use these action verbs to make your bullet points in the Work Experience section hit the bullseye. Use them to list your job responsibilities and demonstrate your professional abilities. 
Before finishing your resume, feel free to play around with formatting. Ever thought about using bold type, all caps or underlining passages of text? 
---
Winning a

2018 GRAPHIC DESIGNER OF THE YEAR AWARD.

Top 5% of the Program
These tools can help you highlight the details that deserve recruiters' attention such as special awards or notable accomplishments.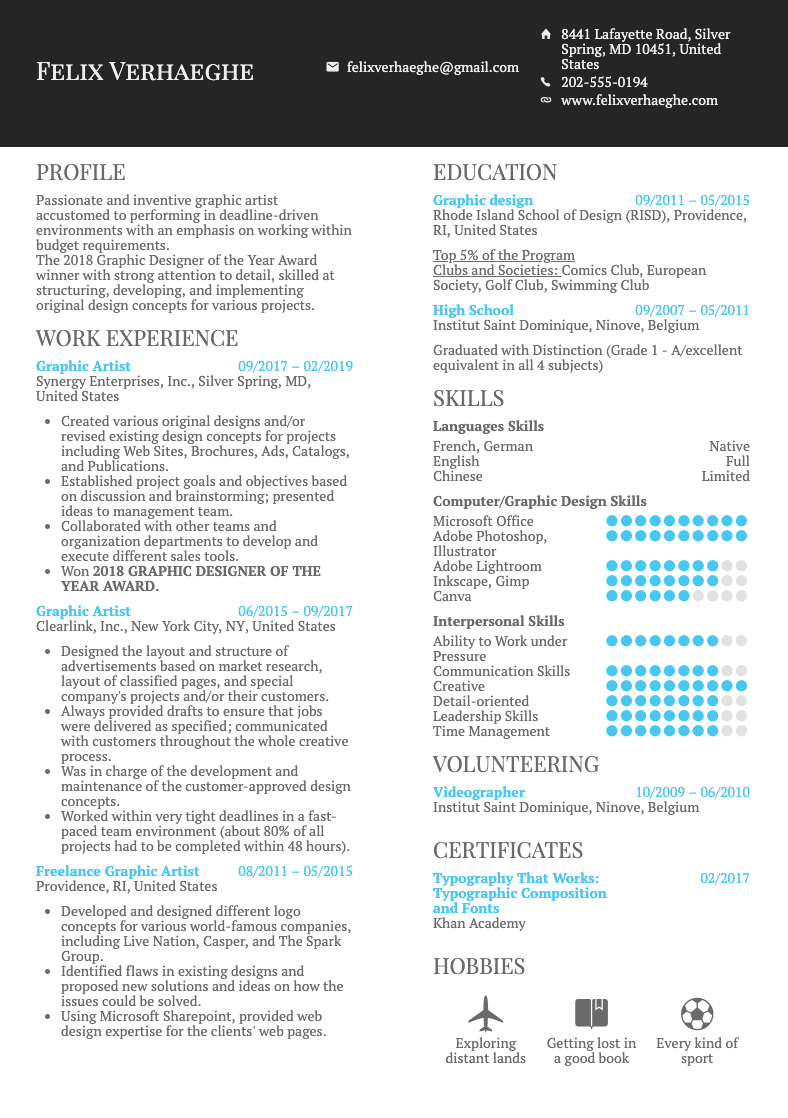 4. Video Production Assistant Resume Sample
Mighty hiring algorithms have been screening our resumes and deciding our jobs for more than a decade. They can do both — cripple our chances of scoring a job or make us stand out from the crowd. 
Separating the wheat from the chaff, computers decide whether to pass your resume on to the hiring manager or throw it away.
To be able to make the cut, pack your resume with relevant keywords and industry lingo that these machines will recognise. The more you'll align your vocabulary with the job posting, the better your chances of getting noticed!
---
Digital Video & Film Production

Promo & Trailer Production

Social & Digital Production

Scheduling & Planning

Talent Directing

Script Writing

Content Development

MS Office

Final Cut Pro

AVID Media Composer

After Effects

Adobe Premiere

Budgeting

Motion Graphics

Crew Management

File-Maker Pro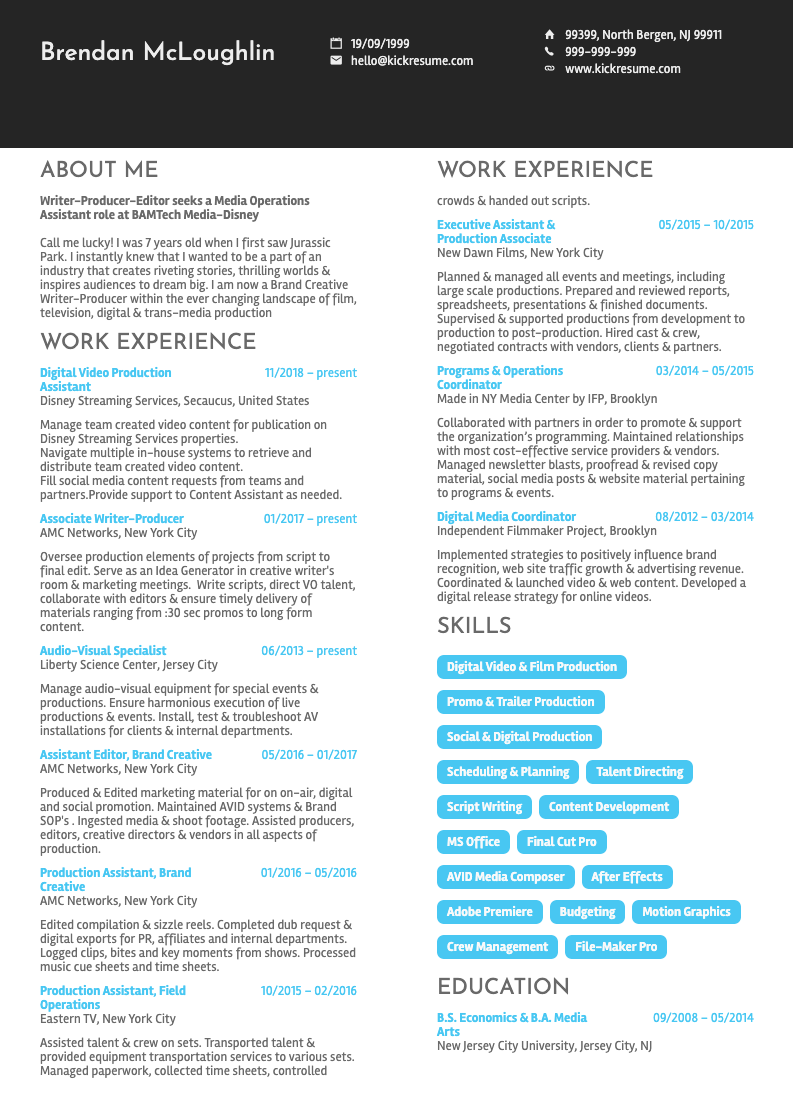 5. Illustrator Resume Sample
Most resumes look dull. Too much text accompanied by a scarcity of visual elements to lighten up the page. No one's impressed, no one's surprised.
With doodles adorning its edges, this resume tells a different story. Don't be afraid to follow its example and turn yours into a work of art, too.
Play around with different font sizes and styles and add colors. You don't even have to keep the traditional one-column layout. Experimenting and going beyond what's expected may give you that edge you need to stay ahead of your competition.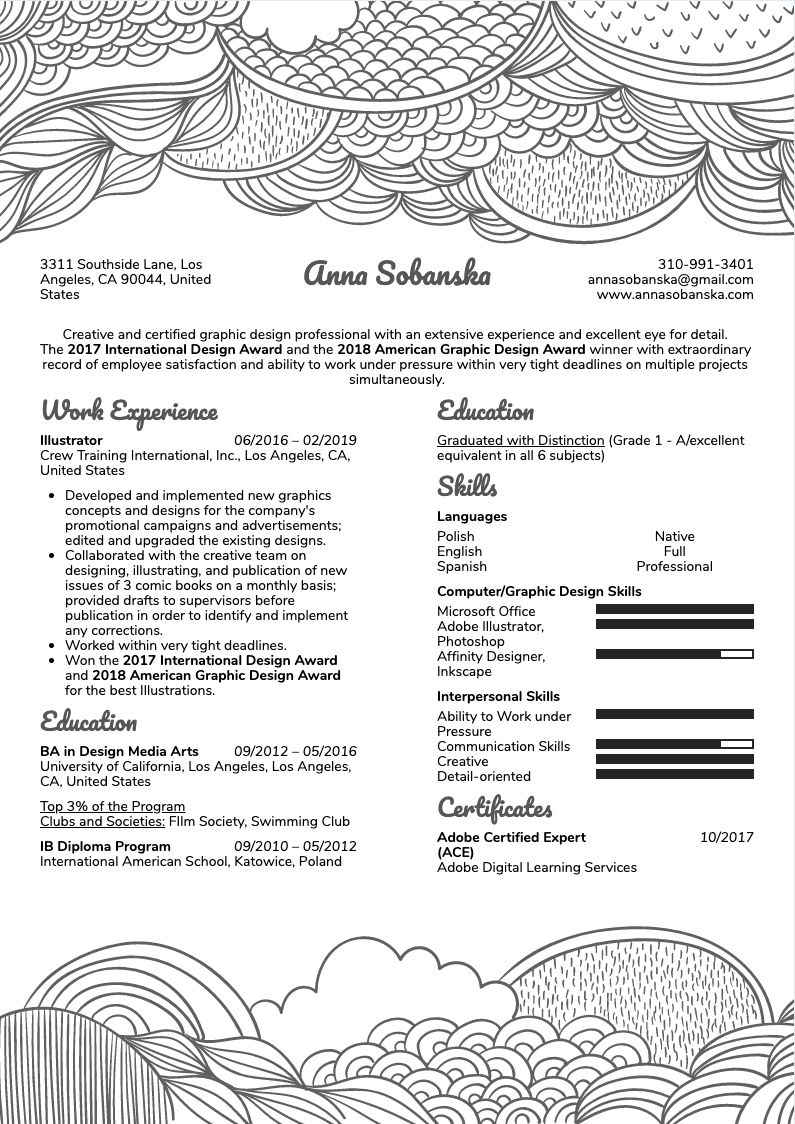 6. Video Editor Resume Sample
While you might possess all the skills listed on your resume, you may want to express that you acknowledge there are gaps in your expertise and you're eager to learn.
Similarly to languages, you may be proficient in some skills but advanced in others.
And here's where bar graphs and pie charts come in handy. While these visual elements are not really bulletproof exact, they can help you assess your skills and indicate which ones you've already mastered and which ones you're still working on.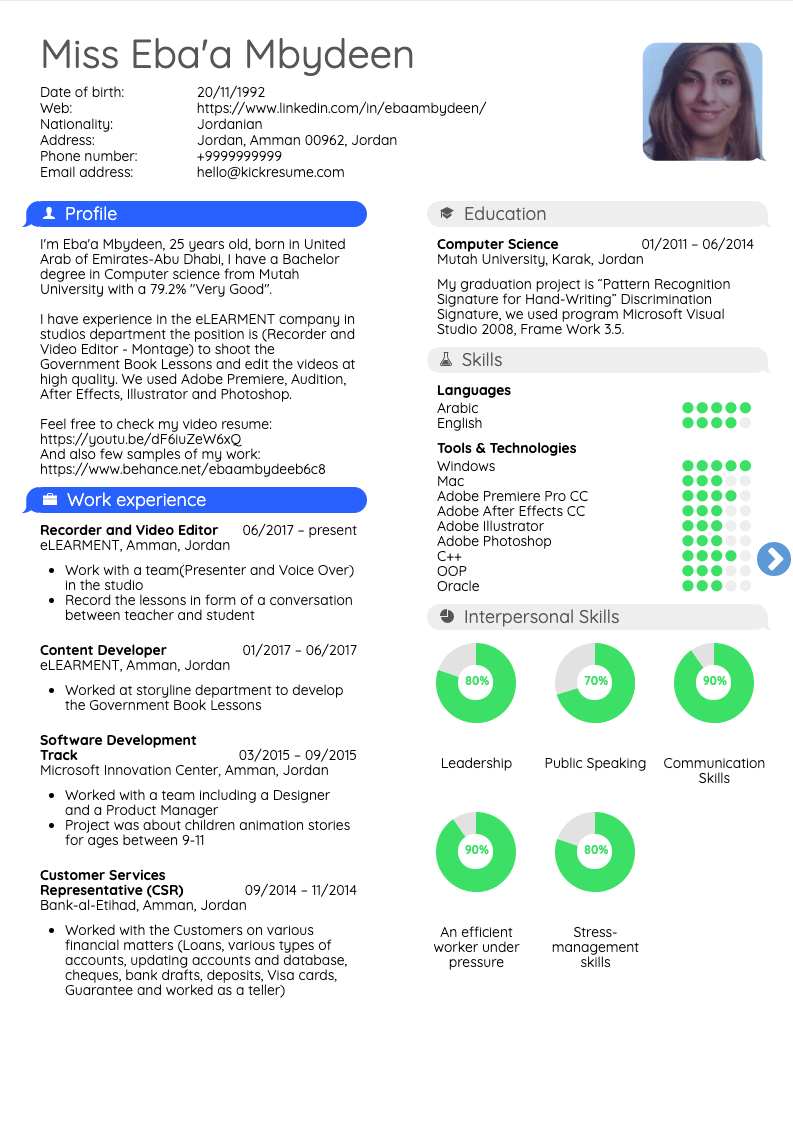 7. Makeup Artist Resume Sample
Recruiters want to see a holistic image of the job seeker. Your interpersonal skills are just as important as your professional skills.
While they'll be curious to know your job history and hands-on experience, they'll also want to see the way you communicate and behave in various situations. 
Nonetheless, it's not just about becoming more vulnerable by letting them what you're really like. 
Employers are starting to pay attention to workplace happiness as it affects the productivity and creativity of their employees. That's why your personality traits have their rightful place in the Skills section of your resume — they'll help them see how you'd fit in with the company culture and perform in the workplace.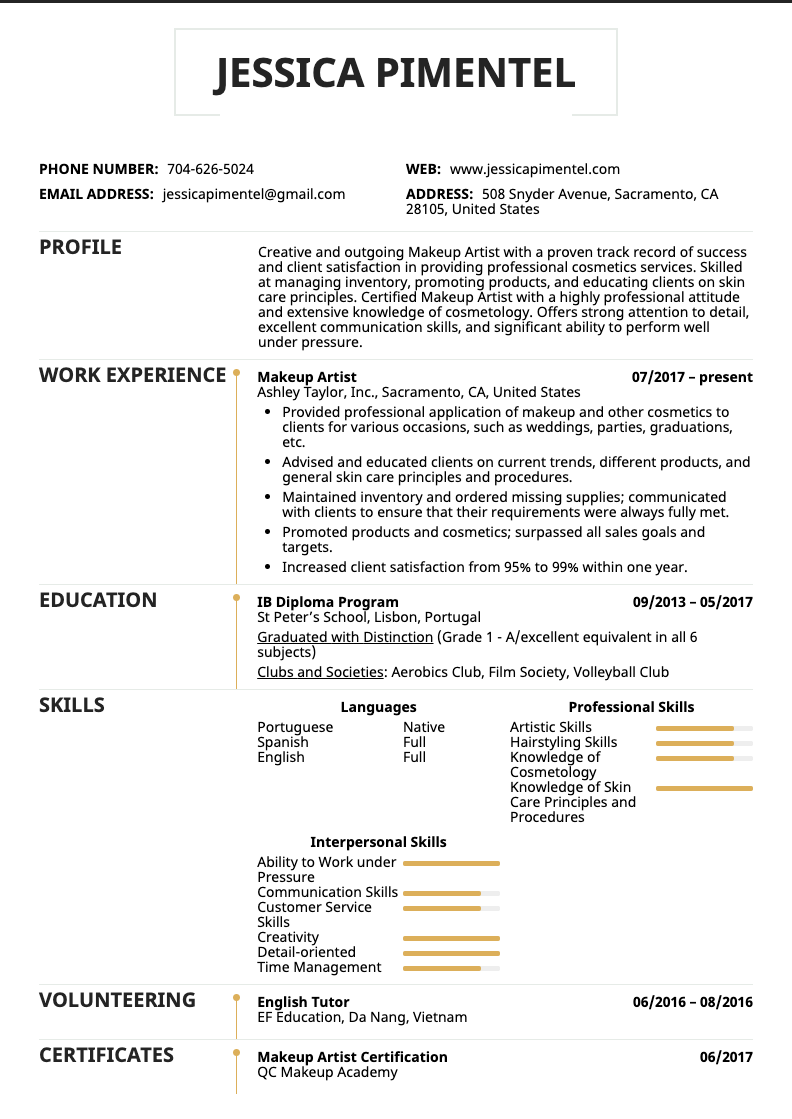 8. Guitar Instructor Resume Sample
Think about the ways of making your bullet points more specific to make your achievements palpable.
Describe situations when you helped solve a problem or negotiate a deal and illustrate your accomplishments with numbers, they speak volumes.
Saying that you helped attract a new client, for example, will just never be as effective as when you add that you grew revenue from $1 million to 5$ million.
---
Promoted services and school all over the Internet – increased client base by 60% within 3 years. 

Worked on the constant improvement of student satisfaction – increased from 85% to 97%.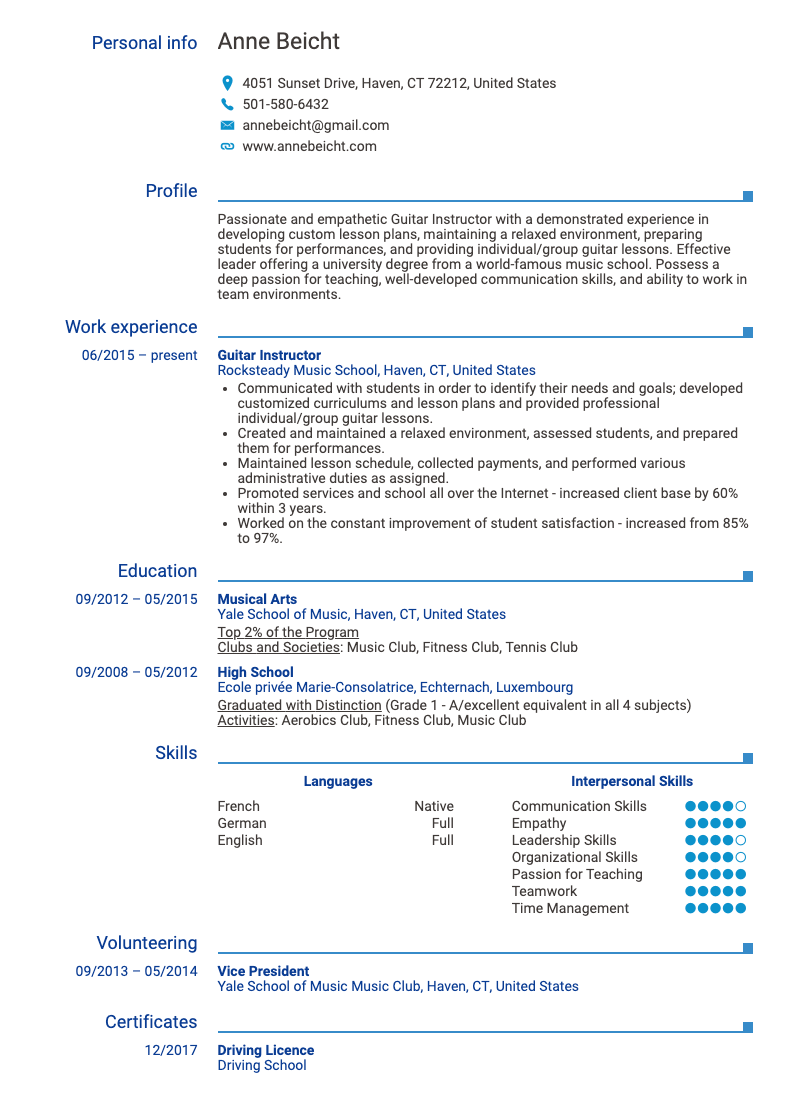 9. Photo Editor Resume Sample
This example proves you can format your resume whichever way you want, putting emphasis on whatever you deem important.
While traditional resumes would prefer to prioritise job seeker's work experience or skills, this resume focuses on awards.
The same goes for the order of jobs in the Work experience section. If you're working a full-time job and freelancing at the same time, it's only up to you to decide which you want to put on display first.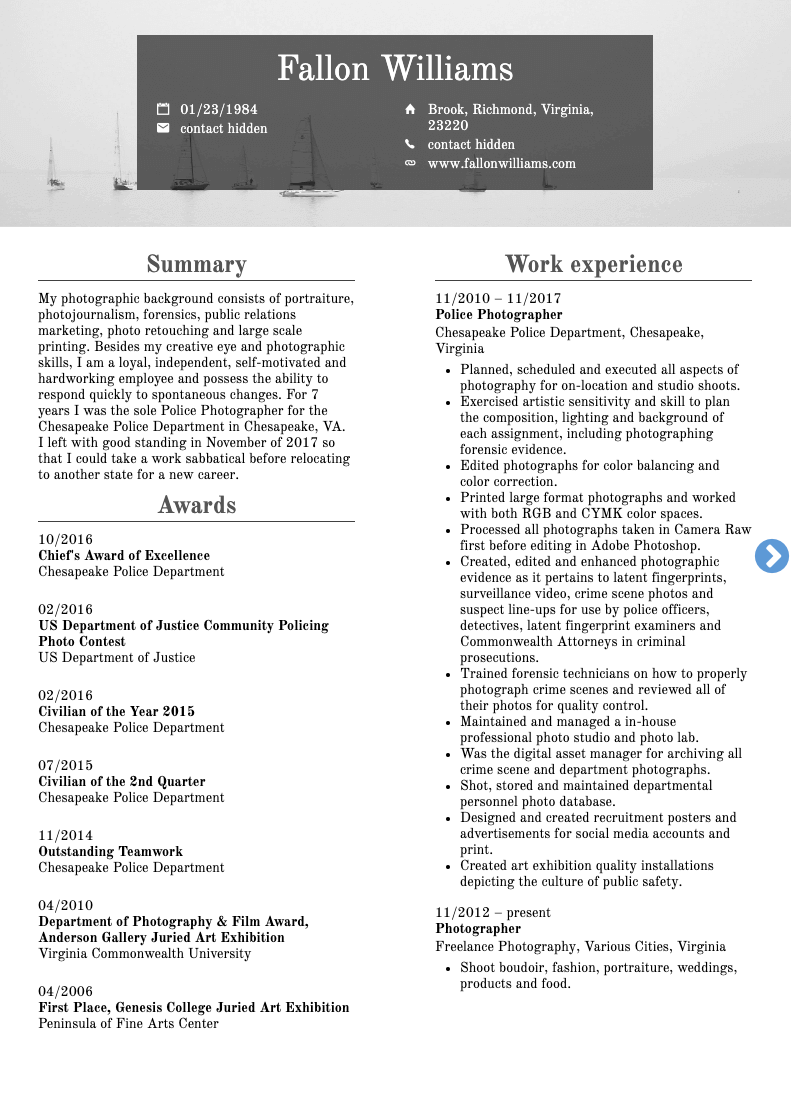 10. Junior Creative Resume Sample
When it comes to boosting your credibility, nothing compares to references.
Ask your professors, tutors and supervisors whom you trust for permission to use their contact information on your resume and willingness to vouch for your skills.
---
Shaik Yusuff

, Senior Lecturer S.V. Degree College, 999 999 999 

Shaik Cheruddin

, Basha Capgemini, (Canada)
If you can't do so at the moment, insert a note saying "references available upon request". Recruiters will appreciate your willingness to lay your cards on the table and stay honest throughout the whole process.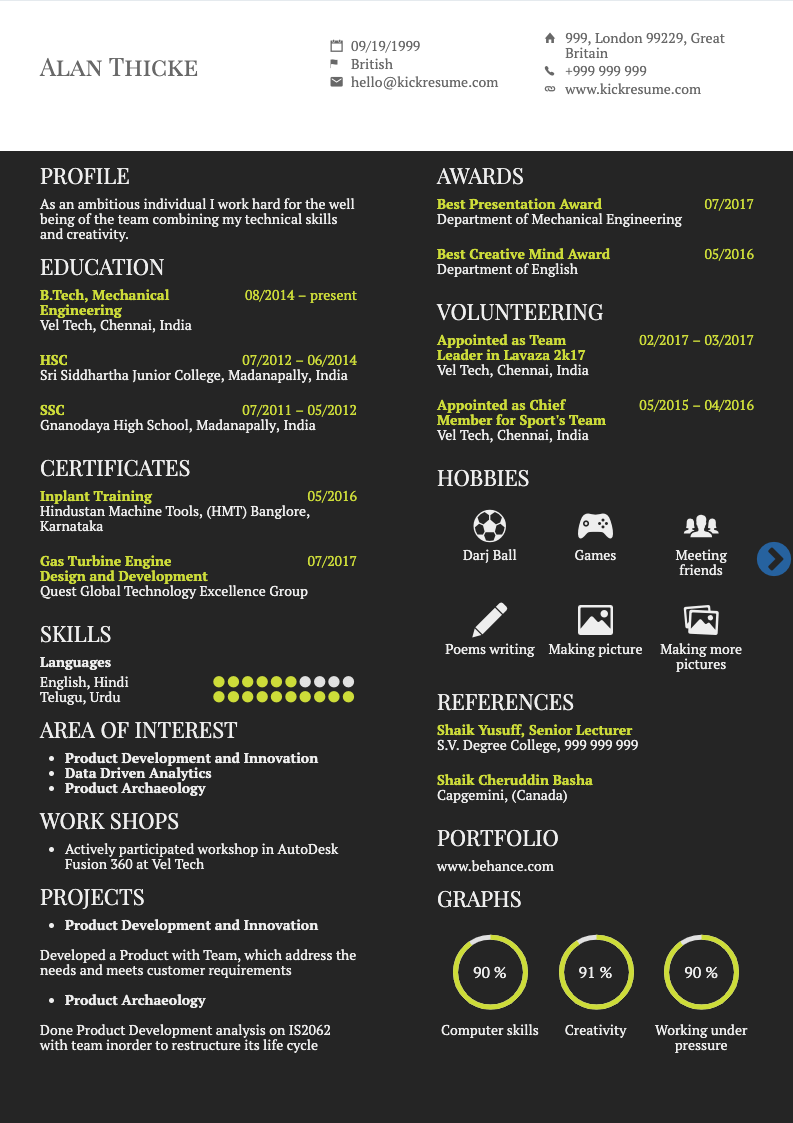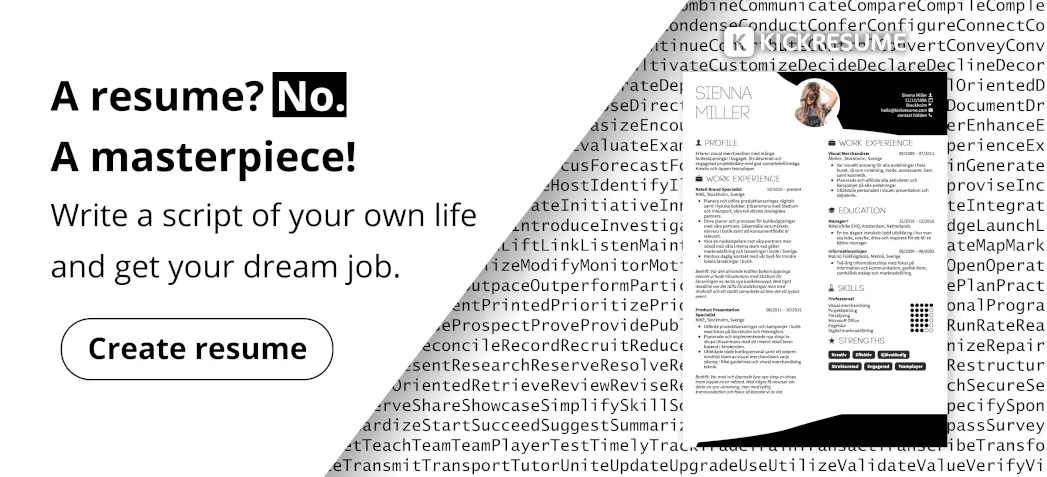 The post 10 Art Resume Samples: Score an Art Job That Pays the Bills appeared first on Sidekick by Kickresume.